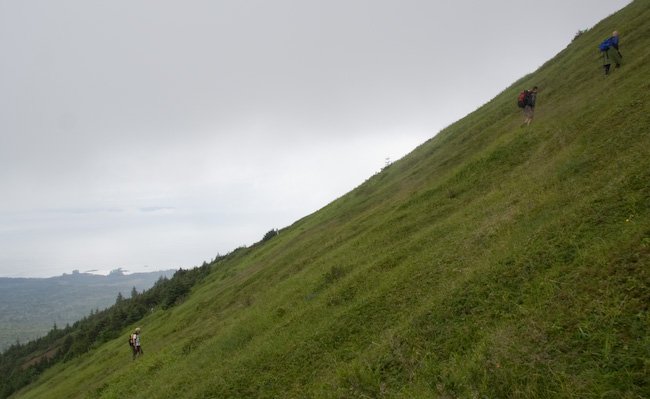 Recently I had the opportunity to go on a hike with a group of people from UAS. Although I have been up Mt. Edgecumbe before, it had been several years since I had last made it out that way. That last time I made it over to Fred's Creek and the trail was in July 2003. Since that time, a new cabin has been built and the lower 4 miles of the trail have been rebuilt, including a new trailhead and bypass. The original trailhead was right behind the Fred's Creek Forest Service cabin. The new trailhead is down a 50 yards or so from the cabin. I think this trailhead and trailhead bypass was built to allow hikers to avoid disturbing people staying in the cabin.
The last time I was on the trail, the upper part of the trail had been recently rebuilt. I think work was being done that summer, and perhaps the next, on the lower section of the trail. After at least a couple of years, the trail is still in good condition. There was very little mud, despite the fact that much of the trail runs through or along the edge of muskegs. There was one significant bit of trail damage, however. There was no sign of any bridge across the stream bed near the shelter. I am assuming it was washed out, but I suppose it is possible that the bridge was purposely removed. In the summer, the stream is mostly dry, but it obviously gets lots of water at times. With high water, the stream would probably be difficult to cross, though this is unlikely to be an issue for summer hikers. The new three-sided shelter appears to be in good condtion, and someone has rigged up a rope system for hanging food (or deer?) nearby. The signs for the old and new shelters appear to have been switched, however.
Probably 30 or more people started out on the trail, but only a few when all the way to the top. It took about 3 and a half hours for those I was hiking with to make the summit. Unfortunately, the clouds were down on the summit and it started misting to go along with the stiff breeze, so it was quite chilly and we did not spend long up there. I am sure the trip down would have gone about as fast, except I stopped a lot to take pictures.
Other thoughts and photos related to this hike:
Sandhill Crane
Comments and Question about Kruzof Island Flora
Observations from the Day
Along the trail about halfway up.
Trailhead
Old Trailhead